Meet an AJO Researcher: Lauren Hindt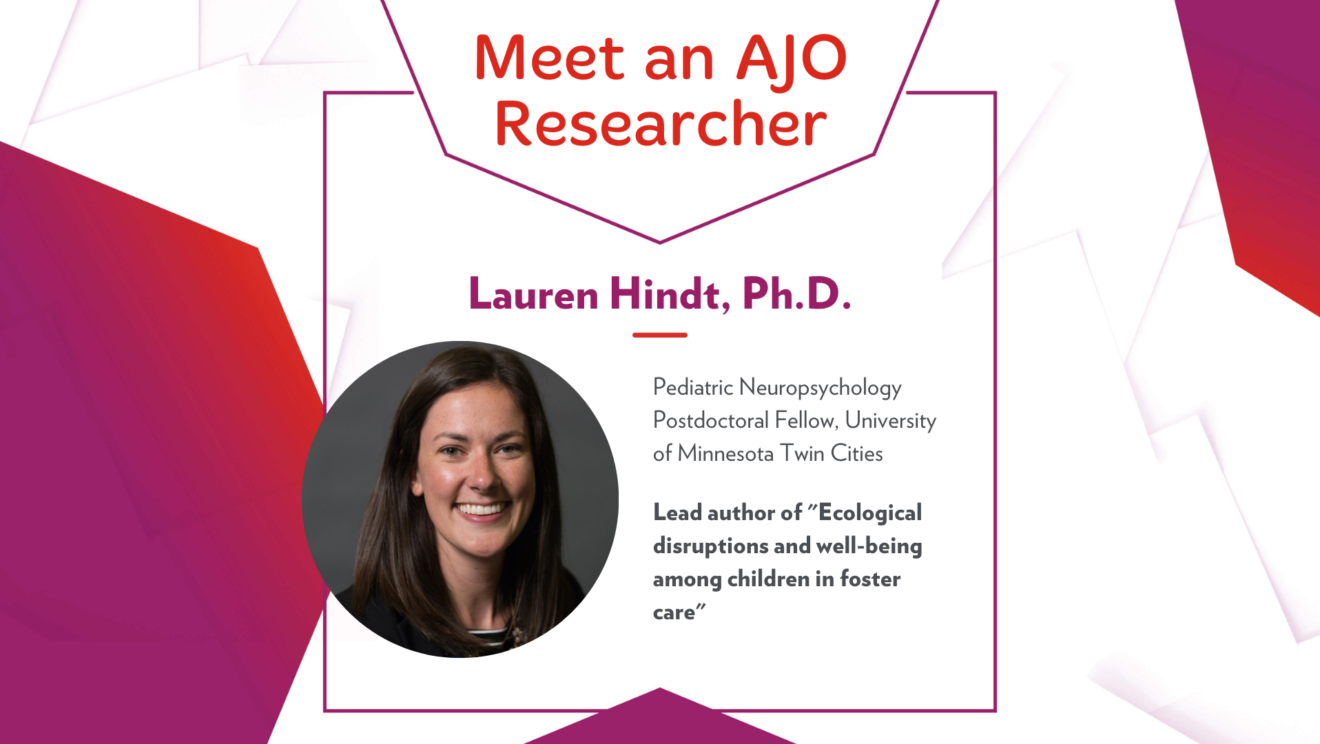 Meet Lauren Hindt, Ph.D.—Pediatric Neuropsychology Postdoctoral Fellow at the University of Minnesota Twin Cities and lead author of the AJO article "Ecological disruptions and well-being among children in foster care."
Lauren's primary research interests include pediatric neuropsychology, child welfare, and incarceration.
We asked Lauren several questions about her study in AJO and other research she is currently working on.
Please list 3 key takeaways from your recent AJO publication:
Lauren: (1) This study examined the relation between multiple ecological disruptions and well-being among children in foster care; (2) maltreatment severity, along with school and community disruptions were related to the presence of internalizing symptoms (e.g., anxiety and depressive symptoms); and (3) loss of friends was associated with the absence of externalizing behaviors (e.g., aggression), while community disruption was related to the presence of externalizing behaviors.
What are the policy implications of this research?
Lauren: It is important for stakeholders to recognize that children entering foster care experience disruption across multiple aspects of their lives. The present study suggests that maintaining children's connections to their school and community is important for well-being. Under certain circumstances (e.g., increased risk-taking behavior), separation from friends may relate to improved behavioral functioning; however, it is important to note that friends play key roles in children's lives.
What are you working on now?
Lauren: I am currently a pediatric neuropsychology postdoctoral fellow at the University of Minnesota Twin Cities. Much of my time is currently spent in clinical practice. In terms of research, I continue to work with Dr. Scott Leon and the PACE Lab in supporting families in the context of child welfare. I also work with Dr. Rebecca Shlafer's lab in supporting families in the context of incarceration. Finally, I consider the neuropsychological functioning of youth in various contexts (e.g., poverty) and related policy implications with Dr. Alicia Kunin-Batson.
---
To learn more about Lauren and her work, visit her departmental profile and ResearchGate profile.
Our Meet an AJO Researcher series spotlights recent research published in the American Journal of Orthopsychiatry and the researchers behind this work.
---