Meet an AJO Researcher: Sophia Fantus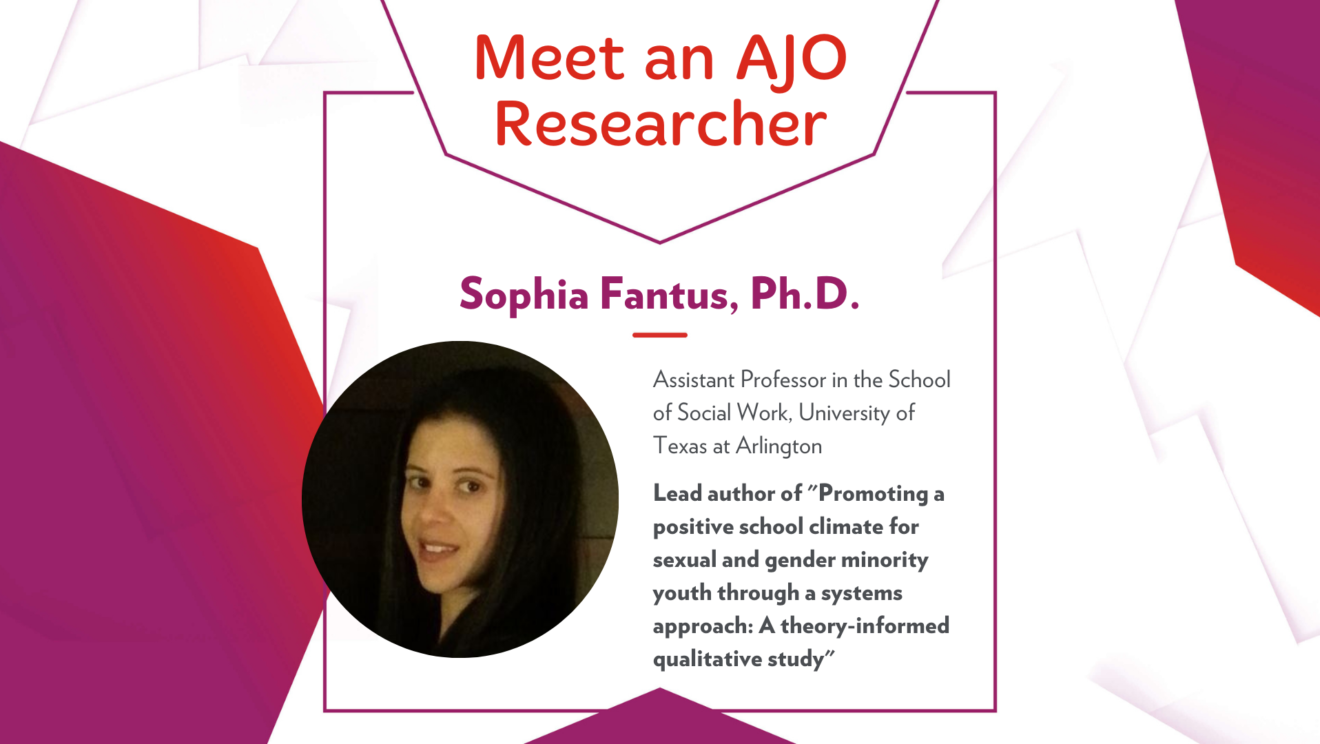 Meet Sophia Fantus, Ph.D.—Assistant Professor in the School of Social Work at the University of Texas at Arlington and lead author of the AJO article, "Promoting a positive school climate for sexual and gender minority youth through a systems approach: A theory-informed qualitative study." 
Sophia's primary research interests include LGBTQ health and reproduction, LGBTQ aging, moral distress, and the ethics of social work practice in the digital age.
We asked Sophia several questions about her study in AJO and other research she is currently working on.
What are 3 key takeaways from your recent AJO publication?
Sophia: (1) Multilevel factors across school social ecology affect a positive school climate for LGBT youth; (2) Multilateral interventions that address both proximal and distal context of school social ecologies are necessary to mitigate bias-based bullying of LGBT youth; and (3) Comprehensive restructuring and reformation of educational systems are necessary to confront bullying victimization of LGBT youth, including curriculum changes and focused policies, procedures, and programs.
What are the policy implications of this research?
Sophia: This research demonstrates that LGBT-inclusive policies in schools are necessary but not sufficient for creating positive school climates for LGBT youth. To mitigate and prevent bullying victimization of LGBT youth, a communal investment is required to effect change across multilevel contexts. This may include fostering and enabling inclusive approaches across teacher-student interactions, peer relationships, teacher-administrator partnerships, and behavioral health professionals. Positive interpersonal interactions in addition to targeted resource allocation, engaged school boards, accountable administration, inclusive curricula, and focused trainings and programming are all vital in creating positive school climates and upholding LGBT-inclusive policies to prevent bias-based bullying. The creation of a positive school climate for LGBT students can promote the social, psychological, and physical safety for all students.
What are you working on now?
Sophia: I am collaborating with Texas A&M on a survey exploring the implications of the COVID-19 pandemic on LGBTQIA+ college students across the state of Texas. We are currently administering the survey and hoping to understand the impacts of the pandemic on students' education, employment, housing, health, mental health, and considerations of physical distancing regulations and vaccine adherence.
I am also completing a study looking to understand the experiences of moral distress among allied health professionals, including social workers and chaplains, working in healthcare during the pandemic across the state of Texas.
Is there anything else you would like to add?
Sophia: Sexual prejudice and heteronormative (and cisnormative) ideologies continue to pervade educational systems and institutions across North America, irrespective of policies and procedures that are put in place. LGBT youth have not been afforded a positive school climate to the same extent as their non-LGBT peers. A negative school climate has deleterious consequences on LGBT students, including academic performance, physical well-being, and psychological and emotional health. School-based initiatives have largely been reactive and there is ongoing discordance between what LGBT students need from school personnel and what is provided. LGBT students require a safe environment and, in order to uphold a positive school climate, it is essential to address the interrelationships between LGBT issues and school-wide systems. LGBT-specific concerns need to be integrated in the context of the broader school climate, and to address the health and well-being of all students.
---
To learn more about Sophia and her work, visit her UTA faculty webpage.
Our Meet an AJO Researcher series spotlights recent research published in the American Journal of Orthopsychiatry and the researchers behind this work.
---