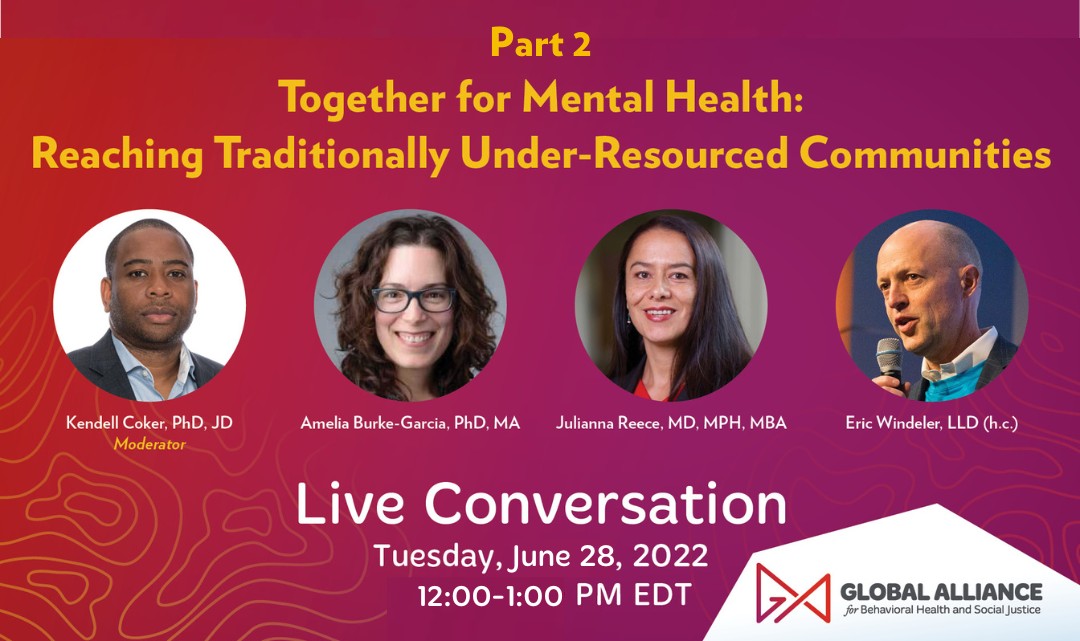 Together for Mental Health: Reaching Traditionally Under-Resourced Communities
Join us for Part II of this event about reaching traditionally under-resourced communities. This conversation will build on the discussion in Part I during May. Panelists will focus on actionable steps to expand understanding and awareness of resources for individual and population well-being. Panelists will also share their impressions of gaps to achieving a full range of mental health resources and suggestions for overcoming barriers to well-being. The conversation will consider approaches to translating experience within and between traditionally under-resourced communities and suggest ideas for supporting, enhancing, and amplifying efforts at the community and policy levels.
---
Speakers
Moderator
Kendell Coker, PhD, JD
Associate Professor, University of New Haven
Incoming Co-Editor, American Journal of Orthopsychiatry (AJO)
Read Bio
Dr. Coker is an Associate Professor in the Department of Psychology and Department of Allied Health at University of New Haven and the incoming co-Editor of the American Journal of Orthopsychiatry (AJO).
He received his Ph.D. in Clinical Psychology with a specialization in Forensic Psychology from Nova Southeastern University. He received his clinical postdoctoral training through Northwestern University at the Cook County Juvenile Court Clinic, where he conducted sentencing evaluations on youth involved with the Department of Probation. He then received his J.D. from Loyola University Chicago School of Law, where he graduated with cum laude honors and was an entering Health Law scholarship recipient and also served as the Editor-in-Chief for the law school's Health Law and Policy Review, Annals of Health Law.
He served as a council member on the Juvenile Defense Resource Institute at Northwestern University School of Law, which was a project designed to strategize ways to reduce recidivism and improve legal representation of juveniles involved in the criminal justice system. Dr. Coker also was a NIDA T-32 postdoctoral fellow at Yale University Department of Psychiatry's Forensic Drug Diversion Program (FORDD).
Panelist
Amelia Burke-Garcia, PhD, MA
Director of Digital Strategy and Outreach, NORC at the University of Chicago
Dr. Burke-Garcia will share her experience as the Project Director of the How Right Now Campaign, a research-based, culturally responsive communication initiative that delivers essential mental health resources to the people who need them most.
Read Bio
Dr. Amelia Burke-Garcia, a seasoned health communications professional with nearly 20 years of experience in program planning, implementation and evaluation.
Currently at NORC at the University of Chicago, she leads the organization's Digital Strategy and Outreach Program Area, where she designs and implements strategies that leverage the power of digital media to influence behavior, most recently as the director for the award-winning How Right Now/Que Hacer Ahora campaign.
She has shared some of her experience in her book, Influencing Health: A comprehensive Guide to Working with Social media influencers, which is one of the many reasons that she has been named to VeryWellHealth.com's list of 10 modern female innovators shaking up health care.
Her new book, Communicating Through a Pandemic: A Chronicle of Experiences, Lessons Learned, and a Vision for the Future, is slated to be released this year. She has been highlighted by the U.S. Surgeon General, Dr. Vivek Murthy, for her work in honor of Women's History Month
Julianna Reece, MD, MPH, MBA
Read Bio
Dr. Julianna Reece, MD, MBA, MPH is a Board-Certified, Family Medicine physician with nearly 20 years of experience in direct Primary Care, with the majority of her time focused on underserved populations and American Indian/Alaska Native healthcare.
She is an enrolled member of the Navajo Nation currently employed as the Director of Healthy Tribes Program, with the CDC National Center for Chronic Disease Prevention and Health Promotion, Division of Population Health.
Her most recent roles included serving as the Chief Medical Officer for the Albuquerque Area Indian Health Service (IHS), as well as the Vice Chair of the Heroin, Opioids and Pain Efforts (HOPE) Committee, a national initiative through the IHS, addressing the opioid epidemic.
Panelist
Eric Windeler, LLD (h.c.)
Co-founder, Jack.org
Jack.org is a Canadian charity that trains and empowers young leaders to revolutionize mental health—its digital resource Be There will be critical to this live conversation.
Read Bio
Eric started Jack.org with his wife Sandra Hanington and their closest friends in May 2010 after losing their son Jack to suicide. Since then, Eric has put aside his business interests and leads Jack.org full-time. With a staff of over 70 and 3,000 youth volunteers, Jack.org is Canada's only charity training and empowering young leaders to revolutionize mental health in every province and territory.
Eric works tirelessly to inspire discussion about mental health, especially among young people. In 2013, Eric received the Champion of Mental Health award from CAMIMH and the QE Diamond Jubilee Medal. In 2015, Eric was honored by Queen's University, receiving an honorary degree (LLD) recognizing his work in the field of mental health.
In 2017, Eric and Sandra Hanington received the Meritorious Service Cross (Civil Division) from the office of the Governor General. More recently, Eric was selected as one of the 150 CAMH Difference Makers for mental health in Canada. Eric is also recipient of the 2018 Queen's Alumni Humanitarian of the Year Award and the 2020 Ontario Psychiatric Association's Mental Health Advocate of the Year Award. Eric sits on the board of Frayme, a youth mental health best practices
---
Resources
Save the Date!
Coming Together for Action Conference
On October 28-30, 2022 we're coming together in Baltimore, MD to share innovative ideas for strengthening behavioral health services. Will you join us?