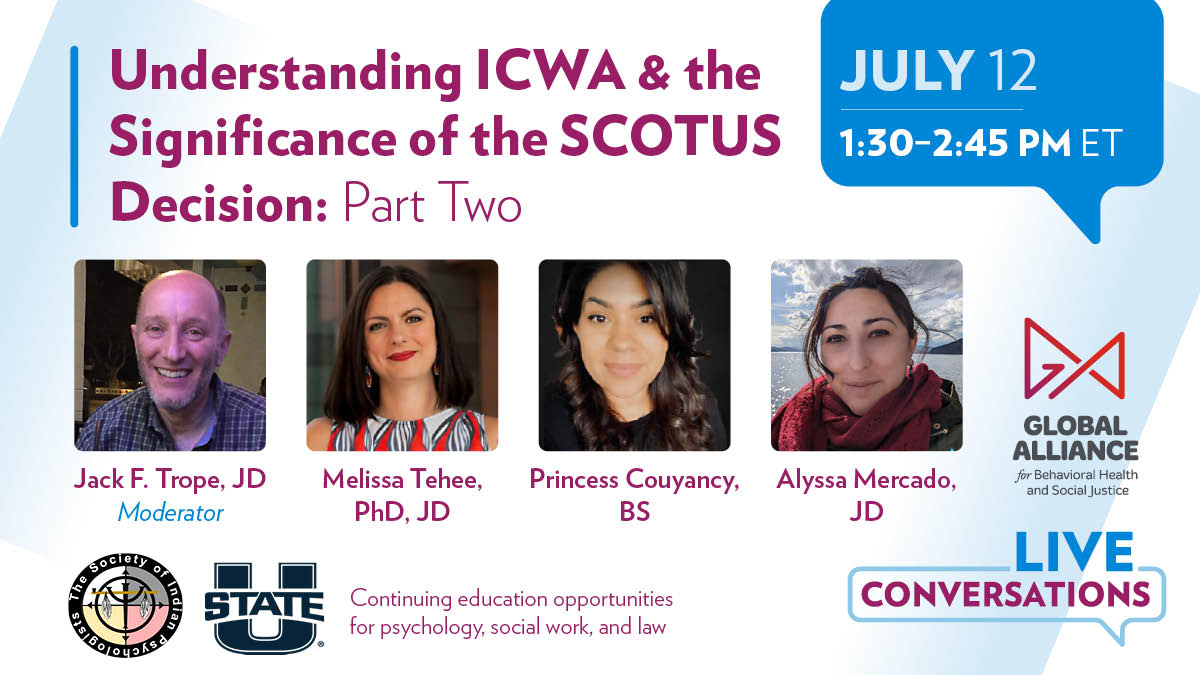 Understanding ICWA & the Significance of the SCOTUS Decision: Part Two
In this Impact Series event, attendees will gain a deeper, interdisciplinary understanding of the Indian Child Welfare Act (ICWA) and its impact on Indigenous children and families. Jack F. Trope will moderate a panel featuring Melissa Tehee, Princess Couyancy, and Alyssa Mercado, who will share their lived experience and areas of expertise, including psychology, behavioral health, social work, and law.
This is the second part of a two-part conversation that explores the significance of Haaland v. Brackeen, and it takes place after the decision has been rendered by the Supreme Court of the United States (SCOTUS).
How should we understand the ruling? What will its implications be? What can interdisciplinary attendees do in response?
Continuing Education Opportunities
To receive CE credits, you must attend the sessions live.
Psychology CE is sponsored by The Society of Indian Psychologists, an APA approved sponsor.
Social Work CE is sponsored by Utah State University Department of Social Work.
Certificates are provided to attendees. For Continuing Legal Education (CLE), attendees must determine if this meets the criteria for your state and submit all forms accordingly.
We would like to provide a content warning for this discussion.  It may include themes and examples of topics such as mental health disorders, depression, suicide and suicidal behavior, and trauma. We encourage attendees to prioritize their well-being by taking time and space to process this content as needed throughout the conversation.
---
Meet the Speakers
Jack F. Trope (Moderator)
Jack F. Trope is a Senior Director in Indian Child Welfare Programs at Casey Family Programs, where he works on national and local initiatives aimed at promoting compliance with the Indian Child Welfare Act, increasing tribal access to the Title IV-E Foster Care and Adoption Assistance Program, and improving child welfare outcomes for children and families in state and tribal systems through training and systems improvement. Previously, Jack served as the Executive Director of the Association on American Indian Affairs (AAIA) for more than 13 years (and as Staff Attorney earlier in his career).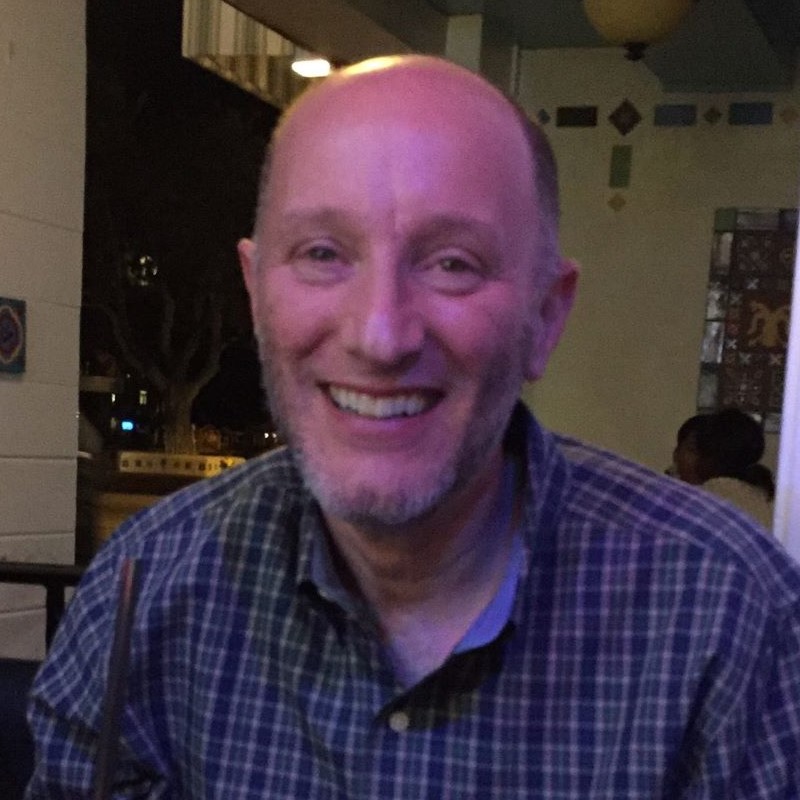 He has also served as Director of the Albuquerque-based Western Area Office for the Save the Children Federation and held a number of legal positions including being a partner with the law firm of Sant'Angelo & Trope. Mr. Trope has worked on Indian child welfare matters since 1985 and is a co-author of the 3rd Edition of the Indian Child Welfare Act Handbook published by the American Bar Association.
---
Melissa Tehee
Melissa Tehee is an Associate Professor at Utah State University's Department of Psychology and the Director of the American Indian Support Project (AISP) for the Combined Clinical/Counseling PhD specialization at USU's Society of Indian Psychologists (SIP). A citizen of the Cherokee Nation, her clinical and research interests are in addressing trauma across the life span. Her research has focused on bias/prejudice/racism, health disparities, domestic violence, and other trauma experienced by ethnic and racial minorities, especially American Indians.
Her interdisciplinary training allows her to consider the convergence of these topics with law and policy. Other interests include the dissonance of the APA ethics code with culture, multicultural competence, and mentoring. She earned dual degrees in Clinical Psychology, Policy, and Law (PhD/JD) with a certificate in Indigenous Peoples Law and Policy at the University of Arizona. Read more about what's at stake in the ICWA ruling in this blog co-authored by Melisa Tehee.
---
Princess Couyancy
Princess Couyancy is an enrolled member of the Yavapai-Apache Nation located in northern Arizona. Princess' tribal lineage is to the Apache, Hopi and Zuni people. She is the mother to a 19-year old daughter and a 17-year old son. Princess received her undergraduate degrees in Humanities and Social Work from Northern Arizona University. She has dedicated the last 17 years to the field of substance abuse treatment and mental health.
Princess' experience with ICWA has been professional and personal. Princess has worked with families on reunification or safe family placement when needed and has benefited from the tribal preservation components as the mother of two tribal member children. Her years of experience give her insight and knowledge in regards to how ICWA, in real time, affects the Indigenous people of America.
---
Alyssa Mercado
Alyssa Mercado is a Salisbury Teaching Fellow at Loyola University Chicago Civitas Childlaw Center. She started her career as an attorney at the Native American Program (NAP) of New Mexico Legal Aid where she practiced primarily in the areas of family law and child protection in both state and tribal courts. While at NAP, she served as Chair of the Indian Law Section of the State Bar of New Mexico. In this role, she maintained her connection to her alma mater, the University of New Mexico School of Law (UNM SOL,) by mentoring law students interested in the field of Indian law.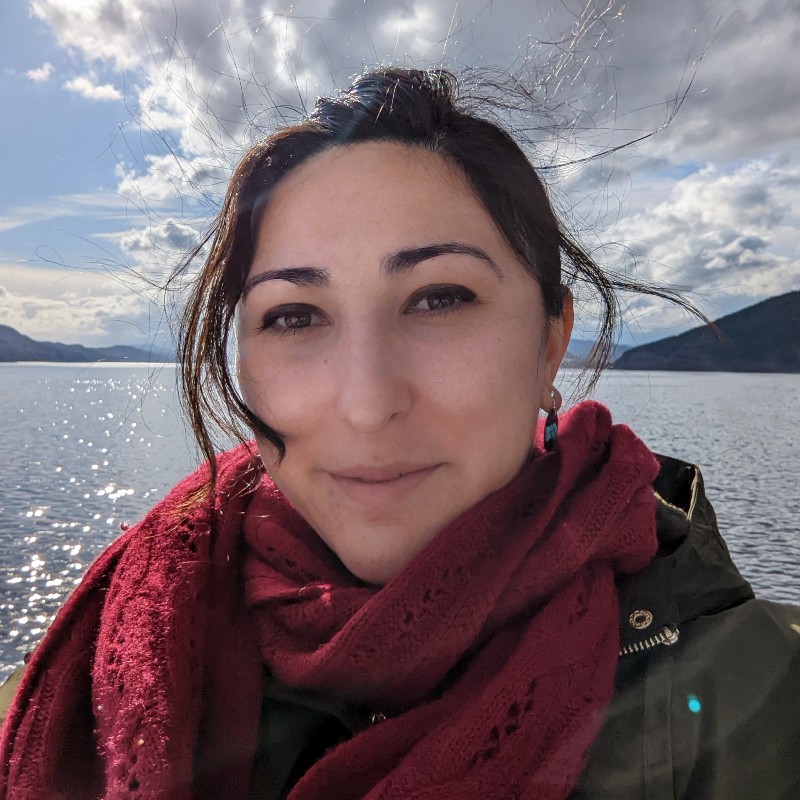 Alyssa later taught the Southwest Indian Law Clinic at UNM SOL prior to her current position at the Loyola University Chicago Civitas Childlaw Center.
Resources